Today I have a very special guest, Theresa from DearCreatives.com! I can't remember how I found Theresa's blog, but I can tell you I've been hooked on her crafts since! I wish I was half as creative and talented as she is. I know you will enjoy her as much as I do! Make sure you hop on over to her little blog and tell her how awesome she is!!
Hi! Thanks Brittany for having me here today! Let me introduce myself to your readers who don't know me. I am the author of DearCreatives.com
Creativity, Crafting & Inspired Living
my real name is Theresa. I am an artist & crafter. I share things I make & that inspire me, deals to be thrifty so I (you) can have more $ in your pocket for crafting. I also share recipes & love baking. Of course I share the mom stuff now and then, what I am currently working on & occasionally reviews...Today I am going to share how easy it is to make Cards or in this case Halloween cards. Its the perfect time to go to your hobby store & grab some card stock or designer paper pack (usually sales are on right now) & get started. You really don't need that many supplies to make cards when you are getting started! Everyone loves getting snail mail now & again! or give them to your favorite Trick or Treater s as a prize!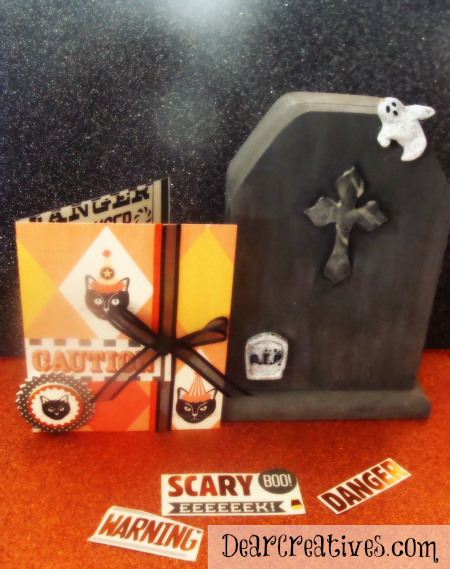 Lets get started!
1)
basic supplies:
scissors & or paper cutting scissors
seasonal 12 x 12 card stock or paper pack ( Martha Stewart Paper Pack double sided *on clearance! )
ribbon (black, orange, white.... .50 on clearance!)
glue stick (that dries clear)
stickers or scrapbook items*
Optional Items:
Paper cutter
adhesive dots
scallop die cutter press (or any shape- or paper edger-shape scissors)
rubber stamp (.60 on clearance)
1 sheet cream or other plain light color card stock for stamping
bone folder
black ink stamp (or any ink stamp-acid free)
*stickers ( I used Carnival Round by Martha Stewart *on clearance!)
2) If you don't have a paper cutter you can mark your size lines with a ruler & cut out your card. Other wise cut your paper with the slicer making sure the edges are against the base evenly for a straight line to the size you like. I made some small & some larger but a good size is 4 x 6" & 5 x 7" ( if using a certain size envelopes for mailing make sure size is appropriate)
3) Fold card in half use a bone folder on its edge & then flatten across ( an un-sharpened pencil or Popsicle stick could work too)
4) Cut ribbons & place decoratively, trimming edges equal to card can be done after it is glued (scissors must be sharp) & I placed a sticker over the center ribbon on mine
5) For the inside I used a plain cream card stock I had on hand 1. cut the shape 2. stamped the cut out 3. glued in place to inside of card. I also cut out words from one of the 12 x 12 pages & glued them to the inside.
Get creative! I know I am going to make some that say "Cutest", "Scariest", "Costume of the Night"... & Pass them out! This project can be done with left over scrap booking items, Halloween papers or find sale items (mine came to under $10 on sale & I will have plenty left over for next year or to make a Halloween scrap book for Sammie's photos! It doesn't have to be costly! Watch for sales to get tools you would like to invest in & keep them in a safe place.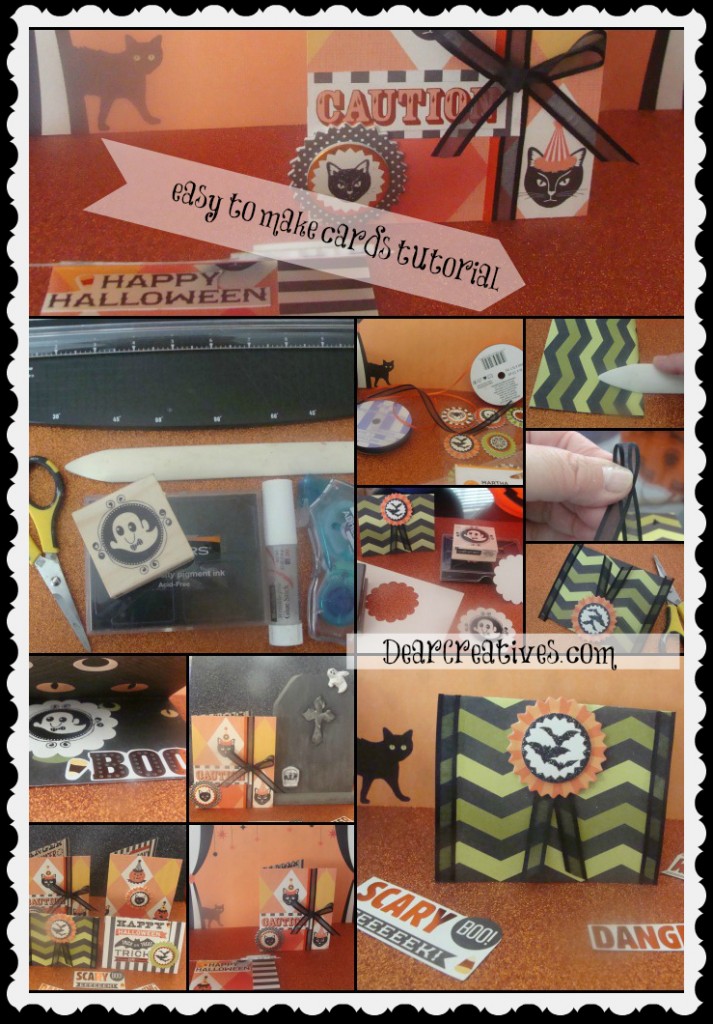 I hope you enjoyed this easy to make Halloween card s tutorial & that you'll drop by for a visit anytime to see all the other crafts & projects I create & share! I am going to make a post of my favorite tools & share them with you & also share how to create some great digital cards! So drop by soon!
Be sure to comment when you visit or follow so I can do the same! Thanks for having me as a guest Brittany!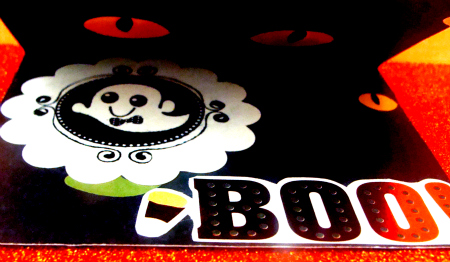 Have you ever made cards before?
Pin It